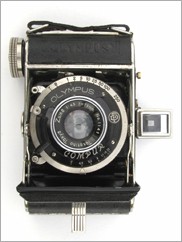 Olympus Semi 1 with Compur shutter, 1936 - Extremely rare
WELCOME TO BIOFOS: Interested in Olympus? There's lots here for you. Whatever your particular Olympus poison, you've found the right site. Join the many thousands of Olympus enthusiasts who visit each month.

SITE LAYOUT: The BIOFOS site is sectioned into four main areas; Collecting Olympus, Biofos Publications, The Olympus Circle and a Cornucopia. Call in on the Olympus Collecting section for inspiration. See what Biofos Publications has to offer in the way of books or other written material. Discover The Olympus Circle; read about its Magazine Quest and maybe consider joining. Visit The Cornucopia to see various topics, mostly related to photography and Olympus, but including other themes like dtp, DIY publishing, printing, scanning etc. Stay a while and browse around, you are most welcome. Whatever you choose to do, enjoy.

1. COLLECTING OLYMPUS: This large central section endeavours to provide as much information about classic Olympus as you will need, in reference book format. This is no minor task and will take many months to complete. I know you will appreciate the huge undertaking involved and I ask for your patience. You will see the Olympus Lineages are set down and some are already complete with illustrations and rarity and valuation boxes.

Pop over and have a look around by pressing here.

2. BIOFOS PUBLICATIONS: Is my small publishing area and its content remains quite static. If you are seeking substantive information about Olympus then you've found the right site. You will already know that most available reference books are wildly adrift in their opinion and, frankly, they serve only to confuse. As a long term collector/user myself I know how hard it is to find reliable quality information. BIOFOS Publications has developed from my collecting interest in Olympus and the associated long term and difficult quest for information. So nowadays when I gather new information I believe it's down to me to produce high quality reference books aimed at devoted Olympus collectors; something sadly lacking when I started.

To discover more about my books and perhaps buy them press here.

3. THE OLYMPUS CIRCLE (TOC): It's been a long held ambition to bring Olympus collectors & users together in a special interest group. In late 2002, with three other enthusiasts plans were drawn. In summer 2003 we were ready to go and The Olympus Circle was launched. September 2003 brought the first edition of Quest and we've never looked back. Despite many other film based groups foundering as digital technology takes over the world TOC goes from strength to strength. Why? It is the unique content and mix of Quest articles, from pure collector items to 'up to the minute' reports on the latest digital offerings and all that goes between. It is a traditional club that offers, amongst other things, a very informative hard copy quarterly magazine, QUEST, that grows into a detailed and valuable reference book for the future. As a photography based web site an image gallery for TOC members is almost compulsory. Please use the GALLERY link below.

To find out more about this special group and perhaps join press here.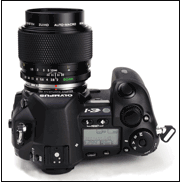 Olympus E-1 DSLR - what's it really like?
4. THE CORNUCOPIA: This is a fancy name for my miscellaneous section. It's from the Latin cornu copiae, 'horn of plenty' and it's my intent to provide you with plenty to rummage through here. It aims to provide a bit of relaxing respite from what can be the serious business of researching classic Olympus, by offering other things to read about that you might find useful. Cornucopia has blossomed and with the rapid growth of the olympus E-System it has already spawned a complete new section devoted to Olympus DSLR. There are also write-ups, reviews and articles ranging across the history of Olympus. There is a list of proposed articles including a proposed look at some classic and modern Olympus offerings; digital cameras, lenses, flashes and accessories and articles on print and negative scanning techniques, image storage options; in fact a true Cornucopia of choice.
To visit the Cornucopia press here.