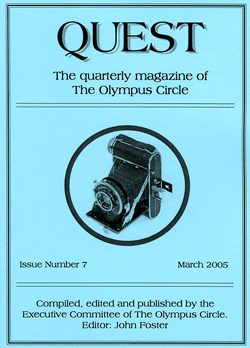 Our highly praised magazine Quest.
A Special Interest Group and Dedicated Magazine for Olympus Collectors:
July 2003 saw the launch of The Olympus Circle (TOC). Its ambition is to attract Olympus devotees from all over the world to join a SIG with an Olympus focus. This new groups specific aims and objectives are set out below. TOC is directed at all people who collect and use (most likely both) Olympus cameras. Covering all Olympus Camera Division's products from 1936 to the present, the group is served by:
(i) a forum of acknowledged experts in their specialised fields and;
(ii) an informative and enjoyable quarterly A5 hard copy magazine called Quest.
Though our initial membership targets have already been exceeded, we welcome new members. Quest 1 appeared in September 2003 and Q6 was published in December 2004. It is well received. These are our stated aspirations:
To be a source of information and advice to members interested in acquiring, collecting or using any format of Olympus camera.
To promote general interest in the Olympus marque by research, documentation and publication of results in the magazine Quest, and by photographic challenges, cameos and portfolios and competitions in all formats.
To provide via Quest feature articles, historical and technical exposes, advice about sourcing, collecting and using Olympus products and provide access to any archive/research material held, handbooks, repair manuals, lists of approved repairers, service centres and specialist dealers. It will also facilitate access to any data held and reproduction of any published information across the whole range of Olympus products (with the formal permission of the Olympus Optical Co. Ltd., Japan.)
Membership rates are UK £17.50, Europe £19.50, Rest of World £22.50. Extra over UK rate is additional postage costs.
For any information about TOC membership please contact Terry Hardy, Secretary on 44(0)1225 858723 or email thardy.2@btopenworld.com.