Currently there are two highly acclaimed books for collectors of classic Olympus cameras. Details are on this page. If you want more, such as Table of Contents these are available; press the book title.

For price details and postage costs, OR special offers for purchasing both, go to the purchase page.

---
SPECIAL OFFER:
If you buy both books you pay postage for only one. We absorb the cost of PayPal's on line payment facility and offer a small additional discount when you buy both books. Details on the purchase page.
---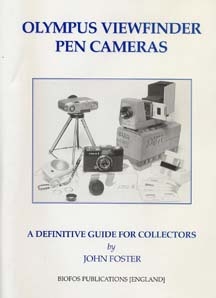 Olympus Viewfinder Pen Book £32.50 Monochrome, 168 pages, A4, Hand bound, Hard Back, HD dust jacket
OLYMPUS VIEWFINDER PEN CAMERAS - A Definitive Guide for Collectors by John Foster, published April 2000.

Published in May 2000 this, my first major work, has brought pleasure to hundreds of Olympus followers. In part this is due to the unexpected and very welcome involvement of Yoshihisa Maitani, architect of the Olympus Pen. I was delighted when Mr. Maitani agreed to contribute to the book in the late stages of its construction. My communications with him, though long and protracted, (and I've got to say difficult for both parties), have proven justified. The presence of Mr. Maitani gives the book an added dimension, as he reveals many new facts about Pen production.

Beautifully printed and generously illustrated with high quality photographs the book charts the Pens' 25 year life from conception through its development to its final demise in 1986, almost 9 million examples later. The book also draws on the research undertaken by the author which, in most cases, enables him to make some fascinating statistical predictions about the production periods and numbers of each model made.

This book has been enthusiastically reviewed by Amateur Photographer and Classic Camera. The Amateur Photographer review appeared in August 2000 and Classic Camera in November 2000. You can check out these independent reviews for opinion about a reference book that sets new standards in camera study.



*******************************************

*******************************************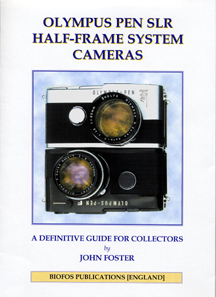 Olympus SLR Pen Book £42.50 Full Colour 174 Pages, A4, Hand bound, Hard back, HQ dust jacket
OLYMPUS PEN SLR HALF-FRAME SYSTEM CAMERAS - A Definitive Guide for Collectors by John Foster, published October 2002.

I spent many years researching the illustrious Pen F system and, I believe, have succeeded in presenting a new book packed with previously unpublished information. For the first time, and exclusively to me, Olympus Optical Co. Ltd. Japan have released for publication all production details on Pen F cameras and system lenses. Using this base data against my own extensive records I am able to reveal much unknown production detail and calculate how many of each system piece was manufactured.

With an absorbing introduction by Yoshihisa Maitani, the designer of the Pen F camera this is a truly remarkable and unique book and I know you will not be disappointed. The book is 176 pages of A4, hard back and hand bound, printed at 1200 x 1200 resolution on luxury 100gsm semi-gloss paper with over 300 high definition colour photographs, charts and artwork. It is crammed with new information, opinion and fact and is a must for collectors and users of the extraordinary Pen F/FT/FV system cameras.

Books are dispatched in four protective wraps; a sealed wrap, bubble or foamed plastic wrap, cardboard wrap and finally into a strong manila envelope. There is no charge for packaging.

If both books are bought together a small discount rate applies, and there are good savings to be made on postage.

Available now it is priced at £42.50 plus postage and insurance at cost.