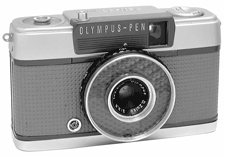 Pen EE two speed, Common
Olympus EE Two Speed, PP: 04/62~02/66, Comon £40

The simple way to distinguish between the two early Pen EE automated models is by the grey leather-cloth coverings. If the covering is grain like it is the Pen 1 speed, if the covereing is basketweave it is the 2 speed. This camera has 2 speeds of 1/30th and 1/250th across the apertrure range.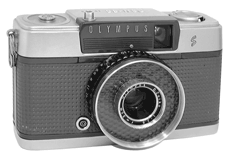 Pen EE S, Common

Olympus EE S, PP: 04/62~ 01/66, Common £40

Identical to the above except in lens configuration. The EE S has a faster 3.0cm x f=2.8 lens.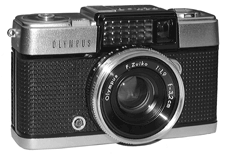 Pen D, Less common

Olympus Pen D, PP: 06/62~11/66, Less common £65

In a design change and return to the manual control camera comes the Pen D. A high specified camera with 8 shutter speeds and a bright F Zuiko f=1.9 six element lens and manual focus by distance estimation. An on-board uncoupled meter with a range of 10~400 ASA offered the more ambitious user a lot. The Pen D is still very popular today for its battery free metering.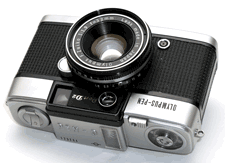 Pen D2, Quite rare

Olympus Pen D2, PP: 09/64~12/65, Quite rare £100

Building on the sucess of the Pen D, the D2 offers the same shutter range and the same f=1.9 fast lens, but with a battery driven CdS meter rather than the D's selenium cell. The battery is accessed from inside the camera - a design flaw acknowledged by Mr Maitani. Very capable and reliable. Desirable and highly prized today.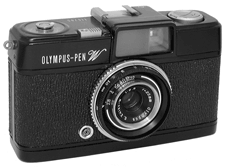 Pen W, Rare

Olympus Pen Wide, PP: 09/64~05/65, Rare £190

Thought (incorrectly) by many to be the rarest of Pens, the Pen Wide is without doubt desirable for its elegant looks, smooth pocketable lines, black coating and wide angle lens. A short production run and problems with the coating make this Pen highly collectable if you can find a nice example. Recent auction prices have been in the $1000 range.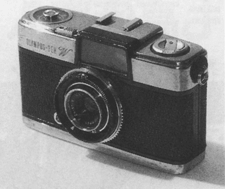 Pen W Commemorative model, Extremely rare

Olympus Pen Wide Gold, PP: Unknown, Extremely Rare £1000

Issued in 1966 to commemorate 3 million Pen cameras made this gold plated Pen Wide is extremely rare. I believe only 28 were made. This scan comes from All of Olympus and the accompanying text has been translated out of Japanese, but tells us little. Mr Maitani recalls the camera but no details. An elusive beast indeed though I believe one resides on the shelves of a European collector.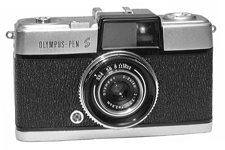 Pen S 3.5, Quite rare

Olympus Pen S 3.5 Chrome, PP: 01/65~08/67, Quite rare £80

Of all the more common Pens this model is unbelievably difficult to find. In many years of collecting I've only seen about 6. In the same period I've seen probably 60 Pen Wide and owned at least 8. It is quite simply elusive. Thought to be the straight sucessor to Pen S 2.8 this Pen was never as popular most likely due to the slow f=3.5 lens, a detraction from Olympus normal policy of fitting f=2.8 lenses to S designated cameras.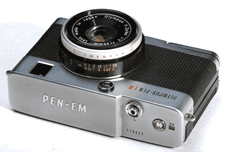 Pen EM, Quite rare

Olympus Pen EM, PP: 06/65~12/65, Quite Rare £90

Interestingly, Mr Maitani had nothing to do with the specification or design of the EM and EMS. Perhaps this is why the camera is a nightmare to use, is totally unreliable and is now, sadly, almost unrepairable. With electric (not electronic) motor driven wind-on and re-wind and auto almost everything it was too advanced for the technology of the day. Shame, I rather like it as a concept.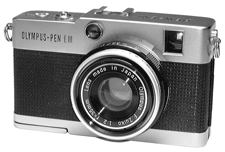 Pen EMS, Quite rare

Olympus Pen EMS, PP: 01/66~08/66, Quite Rare £95

Generally the same as its production sibling except this offers a hot shoe in a newly designed top plate. This is engraved Pen-EM whereas the preceeding model has Pen EM in raised polished chrome lettering. Equally as unreliable. Between both models around 15,000 were made. Apart from a lot of examples being binned, the shoe version is difficult to source.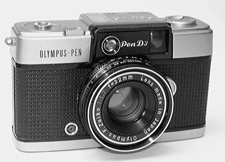 Pen D3, Quite rare

Olympus Pen D3, PP: 09/65~09/69, Quite Rare £100

Last in the triology of delightful and accomplished D series cameras the D3 brings the new Easy Load (EL) system and a faster lens with a f=1.7 F Zuiko as opposed to the D & D2 1.9 offering. Otherwise exactly the same as the D2. Equally sought today for its remarkable picture taking capabilities, it is a fine camera that is hard to source, belying its probable overall production of some 150,000 pieces.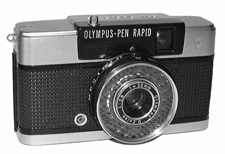 Pen EE S Rapid, Very rare

Olympus Pen EE S Rapid, PP: 09/65, Very Rare £80

A Pen EE S altered to accommodate the singularly unpopular 'Rapid Cassette' phase. It is slightly wider than the EE S to give internal room to stow two of the new cassette system. However this camera was as long lived as the film system. One production run in September 1965 with about 3,500 made. Unusable today, collectors pieces only.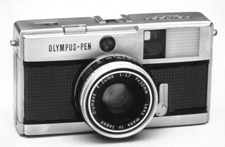 Pen EED Rapid, Extremely rare

Olympus Pen EED Rapid, PP: 05/66, Extremely Rare £500

The stuff urban legends. Contrary to popular belief the Pen EED Rapid was a production camera with some 2000 being made in one run during May 1966. Doomed to be a failure due to the Rapid Cassette system it is rumoured these cameras were offered to Olympus staff. I don't believe this. The new film system never reached Japan and was seen by the Japanese as a threat to half-frame. The design was not wasted and re-emerged later as the very popular Pen EED.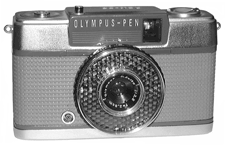 Pen EE EL, Common

Olympus Pen EE EL, PP: 02/66~05/68 Common £25

Continuing the tradition of offering automated and simple cameras the EE with EL system came on stream. Boringly plain but efficient.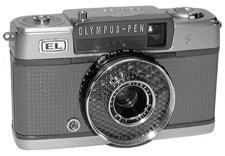 Pen EE S EL, Common

Olympus Pen EE S EL, PP: 02/66~01/68 Common £25

More of the same. Slightly faster lens than the EE version, otherwise identical.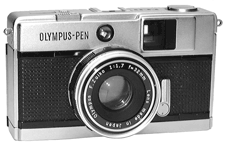 Pen EED, Common

Olympus Pen EED, PP: 03/67~03/72 Common £55

The re-appearance of the EED rapid in standard half-frame format. The EED was the zenith of the viewfinder Pen series in terms of design, specification and automation. The lens is from the previous D3 and auto shutter block a hybrid of the failed EM and capable EE. It was effectively an AE half frame in 1967! Thee EED stands out from the other mainstay Pen designs with its boxy looks and wrap around frame. It is Maitani designed.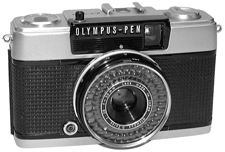 Pen EE S 2 Black covers, Common

Olympus Pen EE S 2, PP: 03/68~12/85 Common £30

The EE 2 S and following series shows a new design for the Pen. Using design experience from the Olympus Trip Mr Maitani brings the Pen range up to date with a face lift. New body style, shutter block, door catch mechanism and hot shoe, something the run of the mill Pens never had.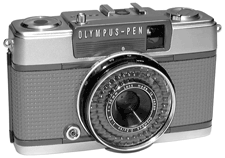 Pen EE S 2 Grey covers, Common

Olympus Pen EE S 2, PP: 03/68~12/85 Common £30

As above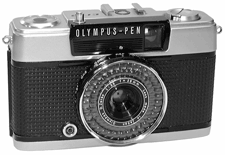 Pen EE 2 Black covers, Common

Olympus Pen EE 2, PP: 05/68~03/77 Common £30

As above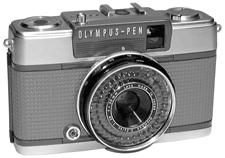 Pen EE 2 Grey covers, Common

Olympus Pen EE 2, PP: 05/68~03/77 Common £30

As above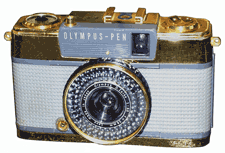 Pen EE 2 Golden, Extremely rare

Olympus Pen EE 2, Golden PP: Unknown Extremely rare £250

Manufactured to commemorate the making of 5,000,000 Pen cameras. Presented to franchisers who reached certain targets. I beleive no more than 30 of this gold plated model were made. Having said that I have personally seen three. Normally on a wooden plinth with a small plaque engraved with details of the receiving party. Very pretty indeed.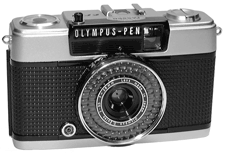 Pen EE 3 Black covers, Common

Olympus Pen EE 3, PP: 05/73~10/86 Common £30

As Pen EE2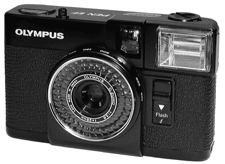 Pen EF Black polycarbonate body, Less Common

Olympus Pen EF, PP: 02/81~08/83 Less Common £55

As a final fling someone at Olympus, (it was not Mr Maitani) decided to give the failing Pen series a last gasp re-face. The result is the Pen EF, one of my favourites of the series. Why? Well I think it either very brave or extremely foolhardy of the designer to put this amount of effort into a dying camera and ailing format. I think the EF is very nicely designed with some panache. The on-board flash is small but effective and the results are about as good as any EE series Pen from the past. Well done Olympus.



Of course this page only gives you a flavour of the V/F Pen proliferation; there is much more to learn. My definitive book will provide all you need for a study of the camera that changed photographic history. You can purchase your copy by pressing here