MANUFACTURERS DESCRIPTION
* Ultra-wide-angle performance 9-18mm (18-36mm) 1:4.0-5.6 for Micro-FourThirds cameras
* Super compact (49.5mm) & light weight (155g)
* Extreme wide angle lens with 2x zoom
The M ZUIKO DIGITAL ED 9-18mm (35mm equivalent focal length: 18-36mm) is an ultra-wide-angle lens offering a 100° - 62° angle of view. With its lightweight (155g), compact design (just 49.5mm long) it is outstandingly portable and makes super-wide-angle photography available to MicroFourThirds users.


TECHNICAL SPECIFICATIONS
9-18mm (35mm equivalent focal length 18-36mm)
12 Elements in 8 Groups, including 2 DSA lenses, Aspherical lens, ED lens & HR lens
Angle of View: 100° - 62°
Closest focusing distance: 0.25 m
Maximum Image Magnification: 0.1x (35mm equivalent Maximum Image Magnification 0.2x)
Number of aperture Blades: 7 (Circular Aperture Diaphragm)
Maximum aperture: F4 (9mm) - F5.6 (18mm)
Minimum aperture: 1:22
Filter diameter: 52 mm
Dimensions: Diameter 56.5 x 49.5mm
Weight: 155g


CHARTS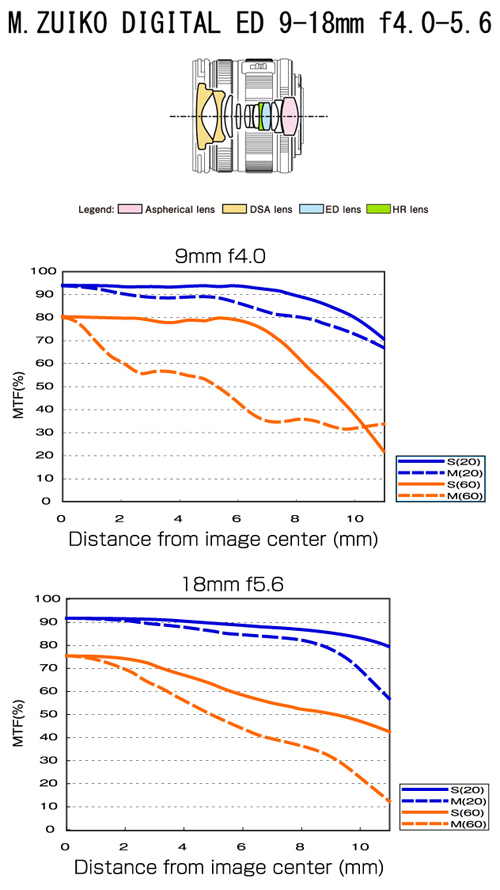 Lens architecture and MTF charts courtesy of Olympus Imaging, Japan.




---
INTRODUCTION
Olympus UK kindly sent me this lens for review, for which I thank them. The lens is now commercially available. Because of the inherent 2X effective crop factor of m4/3rds sensor, designing and manufacturing wide and super wide angle lenses presents many problems. The original 4/3rds ZD7-14mm x f=4.0 is a monster of a lens albeit a stellar performer and it's smaller and slightly less wide sibling, the 4/3rds 9-18mm lenses (on which this m4/3rds offering is based) proved Olympus could make a compact version.
While this lens offers a 2X zoom I believe most users will be interested purely in its wide-angle capabilities.
The internal focusing mechanism moves just one lens unit for focusing. Thanks to this it provides a fast high-speed contrast AF and a silent lens drive, which is perfect for movie shooting. We will see if this tranlates into true rapid AF performance.
The lens is about the same price as its 4/3rds sibling and priced at £499 in UK.


BOX CONTENTS
* M.ZUIKO DIGITAL ED 9-18mm 1:4.0-5.6
* Micro Four Thirds lens cap
* Micro Four Thirds lens rear cap (LR-2) though my example came with the cheap version push-on cap.
* Warranty Card
* Operating Instructions


I note, with some despair, that there is no lens hood supplied. Following some Internet searching I see the hoods are available in Europe for about £40 - ridiculous! Manufacturers Number Olympus LH-55B. It will be interesting to see if the lack of a hood affects performance.
Niether is there a lens pouch supplied but I suspect Olympus will be offering such accessories soon.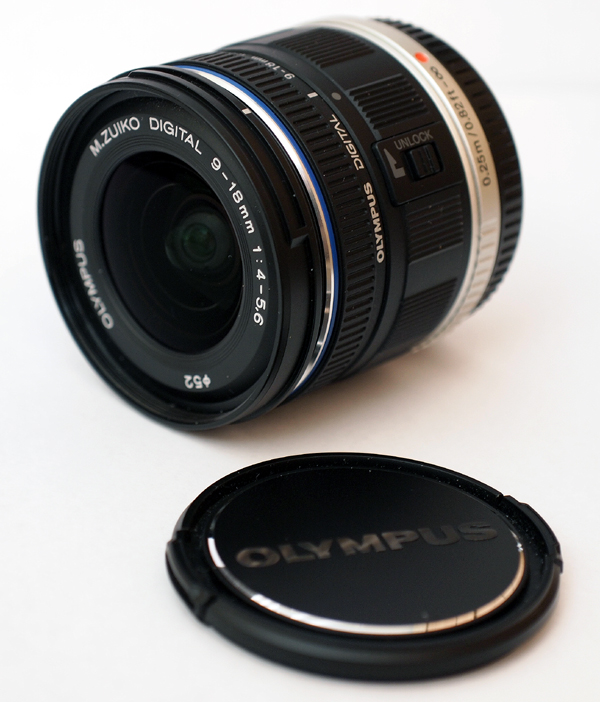 The MZD9-18mm shown with front cap. The lens itself is very handsome with some of the aesthetics (zoom ring knurling) borrowed from the old Pen F system. Fully collapsed it is only marginally longer than the standard MZD14-42mm zoom lens - quite an achievement making the camera/lens combination (large coat) pocketable!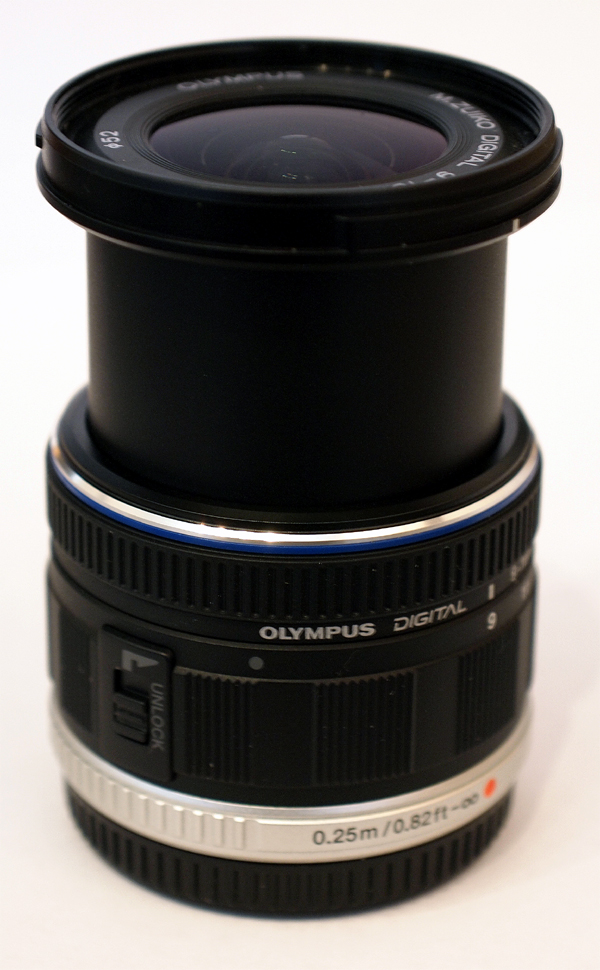 MZD9-18mm unlocked and opened set at 9mm focal length. At 18mm the lens retracts about 8mm into the barrel. Even at full stretch the lens is not overly long, large or intrusive.




PRESENTATION
The construction reflects the desire for a lightweight lens; the lens body is made from entirely from plastic. The barrel, zoom and manual focus rings are black plastic, the rear mounting ring is plastic, silver painted. Only the actual bayonet mount is metal - probably stainless steel. Nomenclature is minimal, including a tiny ED, and is printed directly onto the body. 'Made in China' appears on the AF contact ring at the rear. The lens feels quite nice for all the plastic used and the knurling for the zoom and manual rings is not overstated. The lens sports the standard twin blue/chrome rings just back from the hood mount. It does not feel cheap (nor is it at £499.00!). The lens does not have a distance/DofF scale. It is physically less wide than the diminutive MZD14-42mm standard zoom at 56mm diameter and the filter size is 52mm. The front element reflects mainly purple but there is green too from the inner elements.
Filters: You will be pleased to read that focus is entirely internal with no rotation of front element/ring, meaning use of C Pol or Gradient filters is straightforward.
Zoom Ring: Is delightfully damped giving nice handling of its approx 40 degree anti-clockwise throw. Very smooth in operation.
Dust and drip proof: No.


---
FOCAL LENGTH/APERTURE PROGRESSION
The MZD9-18mm is rated at F=4.0~5.6. It is interesting to see how quickly the aperture closes when zooming. The focal length/aperture progression of the lens is:
* 9mm = f4.0
*10mm = f4.1
*11mm = f4.3
*12mm = f4.5
*13mm = f4.7
*14mm = f4.9
*15mm = f5.1
*16mm = f5.3
*17mm = f5.5
*18mm = f5.6
There is a full stop of light difference across the zoom spread. Looking at the aperture progression light performance has been spread equally across the focal lengths, though it quickly darkens on leaving 9mm.
The MZD9-18mm has a 100 (at 9mm) - 62 (at 18mm) degree angle of view.


FOCUS MODES
Manual focus (MF) is typical 'fly by wire' being light and reasonably responsive and is quite generous in movement. On the EP Series of cameras you have to either use the rear LCD (with or without focus assist) or the new VF-2. Personally I find using the LCD for MF is a waste of time unless the camera is tripod mounted. This is where the VF-2 is worth its weight in gold giving the user not only a great view but stabilization too via the users head against the camera allowing the left hand to manually adjust the focus without the camera swaying. Of course this applies to legacy manual lenses too. The VF-2 screen is as large as the E-3 and in all but very dim conditions it is more than adequate for manual focus without focus assist. Focus assist is well delivered with the E-PL1.
Auto focus is fast and silent. In AF mode on the E-PL1 with latest firmware is very quick, much quicker than with the standard 14-42mm lens. It is slightly less quick on the E-P1/2. Compared to the phase detect of the regular 4/3rds cameras I'd say it is about half as quick as the E-3. The new 9-18mm MZD has the latest AF motor technology providing quick and robust focus. Additionally the new optical design means there is only one focussing element to move for AF, adding to its speed. OK, it's still not up to the standards of phase detect and you'd struggle in the sports field arena, but it is getting quicker. As technology moves ahead and a hybrid system offering both phase and contrast detect is made available it will be no longer be disadvantaged. All focus movement is internal so the end tube does not rotate in use making the use of some filters more attractive.
Video I'm sorry, but I have no experience or talent when it comes to making video's. It is something that simply does not interest me. If you are looking for an appraisal of this lens' performance during video you'll have to look elsewhere.


---
BARREL DISTORTION TEST IMAGES
I set up the tripod indoors with my 'test chart' and 'just' fill the frame with the chart at both ends of the zoom travel. I have the chart as level and plumb as I can get it, as well as the camera. The MZD 9-18mm is fitted to the E-P2 for this test. I do not use flash.
Here are the results at 9mm and 18mm: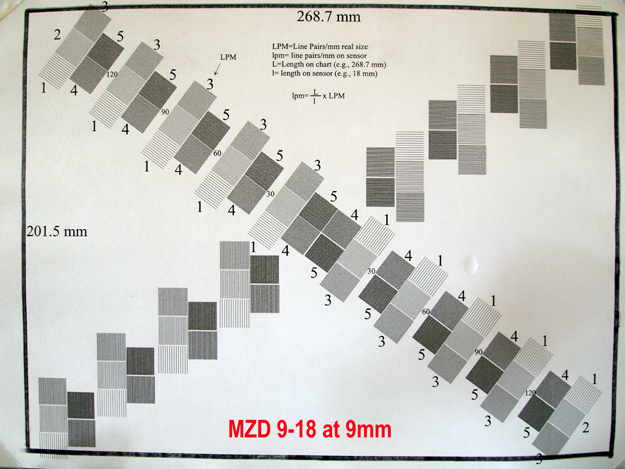 This is a camera developed jpg and therefore the camera's software has already compensated for distortion. However, you can see some distortion of vertical and horizontal remains with slightly more distortion in the upper right of the frame. The level of distortion at 9mm is less than I anticipated (due to in-camera processing) and although you will see this in some architectural shots it is easy enough to straighten further in post-processing if you wish.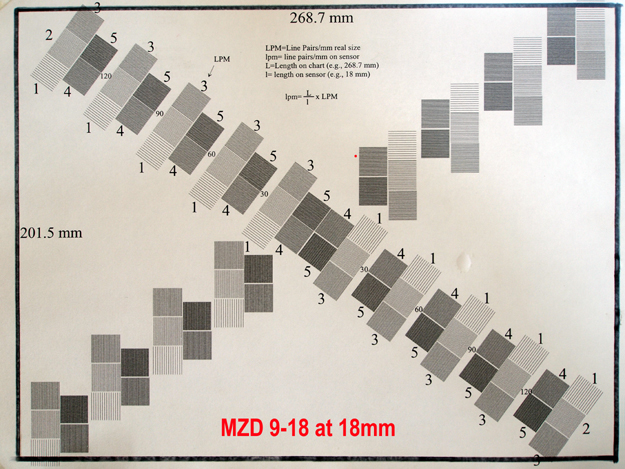 Zoom the lens to 18mm and the level of distortion is greatly reduced and almost insignificant. Excellent result.


---
OUT ON TEST
There's only one way to find out how good a lens is - take some photographs with it! Coincidentally I had planned a trip to The Bowes Museum, Barnard Castle, Co Durham and then to Egglestone Abbey, about two miles away. This would be a great opportunity to take some architectural shots. I use the new Olympus E-PL1 camera and take its standard zoom (MZD 14-42mm) and the MZD 9-18mm.
For this session of gathering shots I use the E-PL1 with the following base settings: A mode, ESP, ISO = 200, WB AUTO, NR= OFF, S-AF, File = Large Super Fine JPG + RAW, COMPENSATION = 0 (unless noted or in EXIF); All else factory default.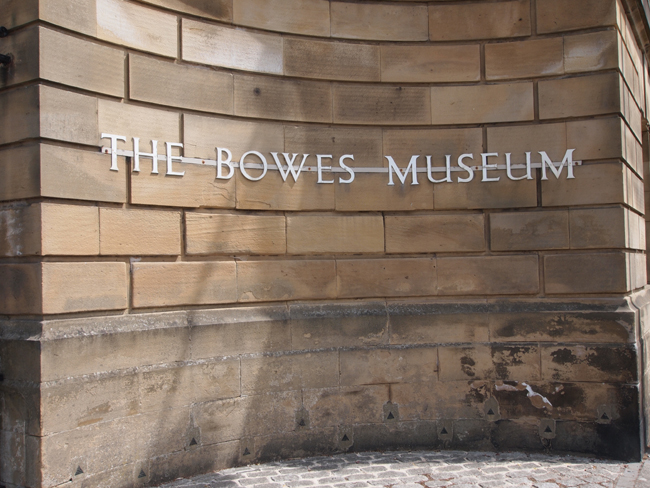 The right hand ashlar entrance wall to The Bowes Museum - a mock French Chateau purpose built in the 19th century by John and Joséphine Bowes as a dedicated museum. If you look carefully at the original file you can see the ventialtion grills to the front of the anti-damp venting tubes fitted along the bottom of the wall.


There's a full size untouched JPG of the above to download for your later study (8.5MB file) here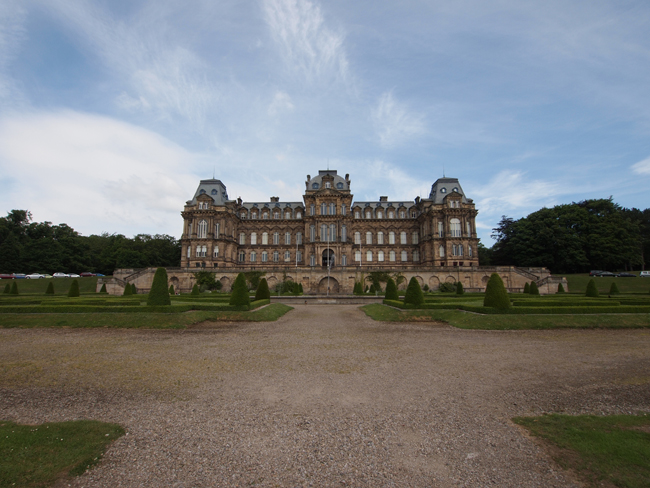 The magnificent French style chateau took 23 years to complete. It is French both in architectural design and inspiration in contrast with contemporary English museums which followed classical designs. The building was designed with the collaboration of two architects, Jules Pellechet from France and John Edward Watson of Newcastle. The Bowes Museum was the first building in the country to be designed in metric rather than imperial. Stone was quarried at the nearby Bowes estate at Streatlam.


There's a full size untouched JPG of the above to download for your later study (8.5MB file) here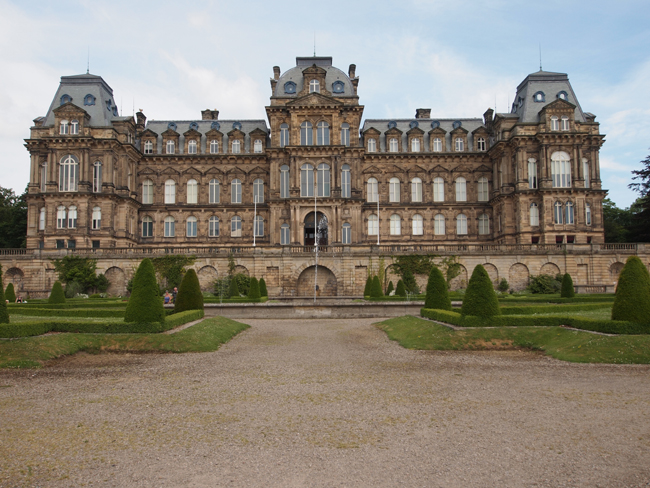 The Bowes Museum is a hidden treasure, a jewel in the heart of beautiful Teesdale. The magnificent building stands proud in the historic market town of Barnard Castle housing internationally significant collections of fine and decorative arts.


There's a full size untouched JPG of the above to download for your later study (8.5MB file) here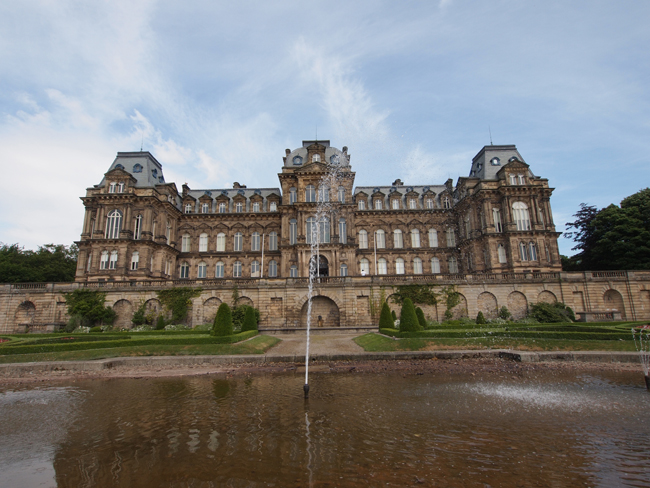 Nothing had matched the scale, grandeur or location of this colossal proposal in their lifetime. Plans were meticulously scrutinised and painstakingly formed in order to give the North East a truly magnificent edifice, a home suitably fitting for all the precious treasures which would be contained within it.


There's a full size untouched JPG of the above to download for your later study (8.5MB file) here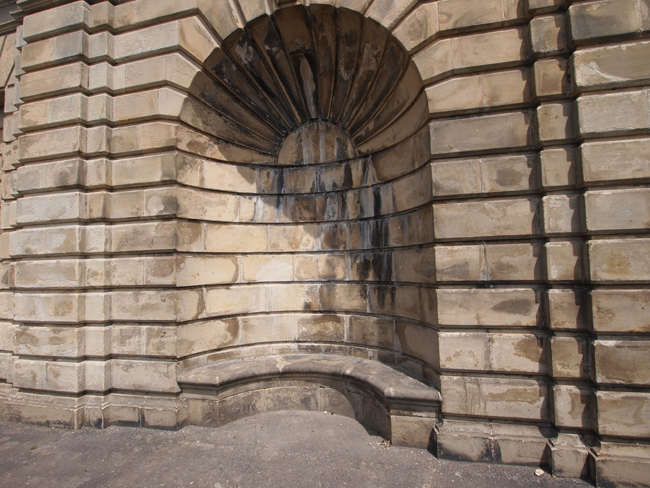 Detail of one of the many support arches making up the front palisade wall of the magnificent building - provided here so you can examine the fine detail the MZD 9-18mm lens delivers. There is a touch of softening as the corners are approached and some magenta CA.


There's a full size untouched JPG of the above to download for your later study (8.5MB file) here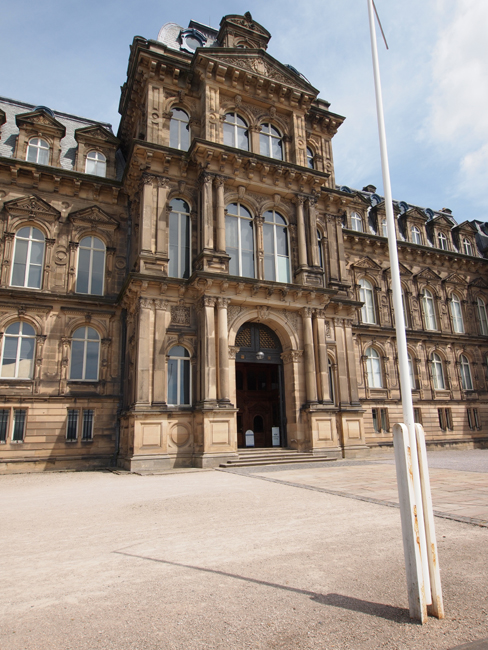 The Bowes' enthusiasm was immeasurable as Joséphine laid the foundation stone in 1869. She said "I lay the bottom stone, and you, Mr.Bowes, will lay the top stone". As the building grew, so did their collection and an astounding 15,000 objects were purchased between 1862 and 1874.


There's a full size untouched JPG of the above to download for your later study (8.5MB file) here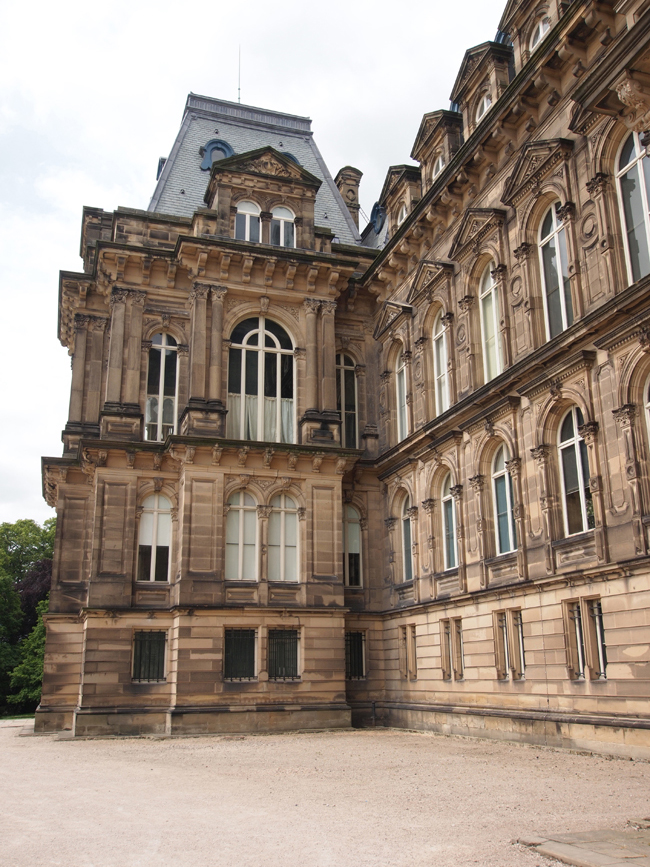 Suddenly the project was blighted when Josephine died in 1874. John's motivation towards their lifelong achievement took an enormous blow and John virtually ceased collecting. Fortunately the building did continue, but John, like his late wife, never saw its completion. He died in 1885 and never did carry out Joséphine's wish of laying the top stone.


There's a full size untouched JPG of the above to download for your later study (8.5MB file) here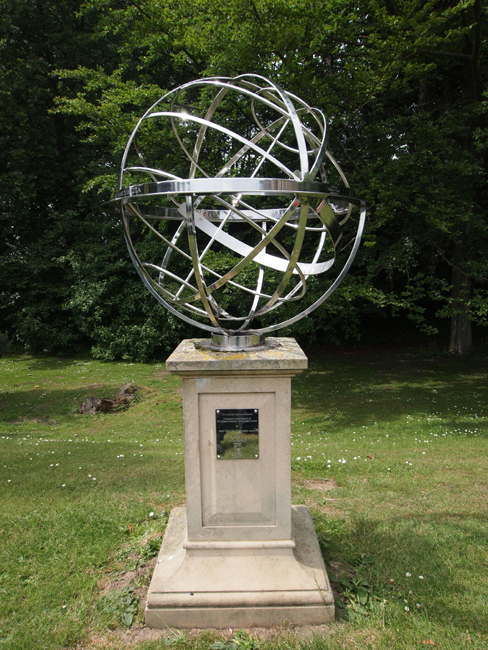 The Armillary Sphere Memorial (within the gardens) is dedicated to the memory of the Queen Mother (Bowes-Lion). Look carefully and you can read the engraving on the central encompassing band of the sphere.


There's a full size untouched JPG of the above to download for your later study (8.5MB file) here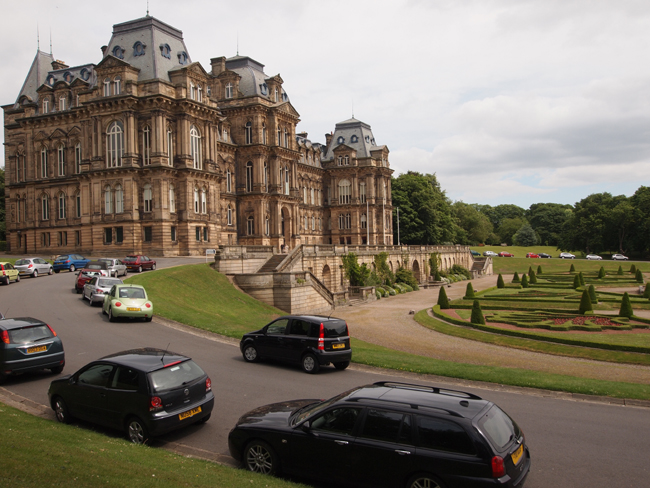 The view looking West across the front of Bowes Museum. It is, without doubt, a fabulous building. The magnificent legacy that John and Joséphine left to the people of Teesdale has been cared for to retain its charm and intrigue yet sympathetic developments have made the attraction a popular, vibrant and exciting day out for all.


There's a full size untouched JPG of the above to download for your later study (8.5MB file) here




---
EGGLESTONE ABBEY
Now we move south about two miles to the ancient ruins of Egglestone Abbey just outside Barnard Castle.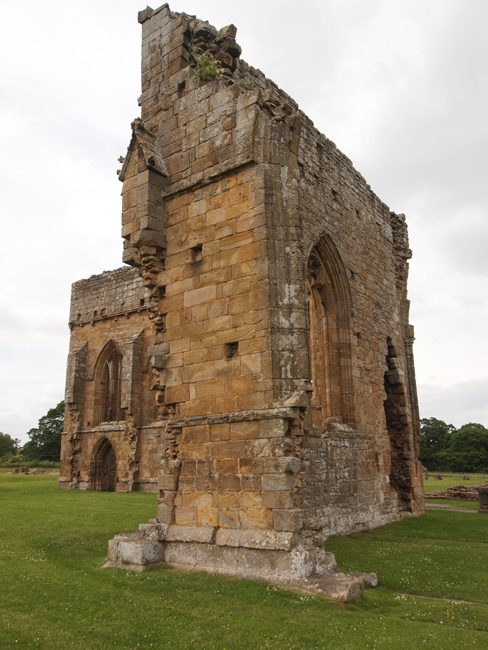 The Abbey was founded in the late 12th century at some point between 1168 and 1198. The founders were the Premonstratensians who wore a white habit and became known as the White Canons. The followed a code of austerity similar to that of Cistercian monks, unlike monks of other orders, they were exempt from the strict Episcopal discipline.


There's a full size untouched JPG of the above to download for your later study (8.5MB file) here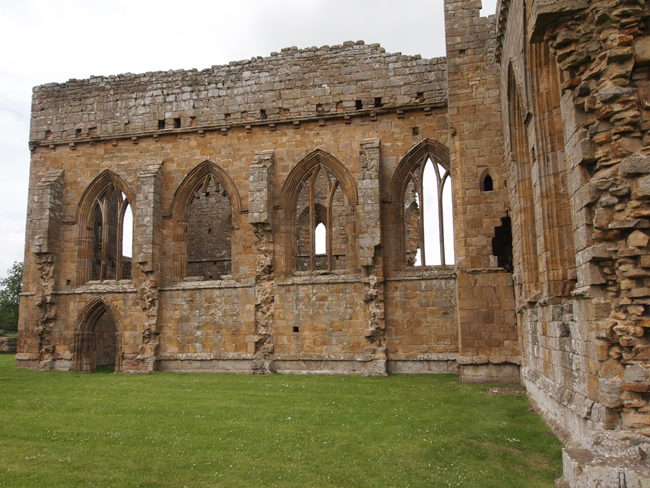 The monks undertook preaching and pastoral work in the region (such as distributing meat and drink). They chose the site for the abbey was chosen because of its isolation, close proximity to a river and the supply of local stone for its construction.


There's a full size untouched JPG of the above to download for your later study (8.5MB file) here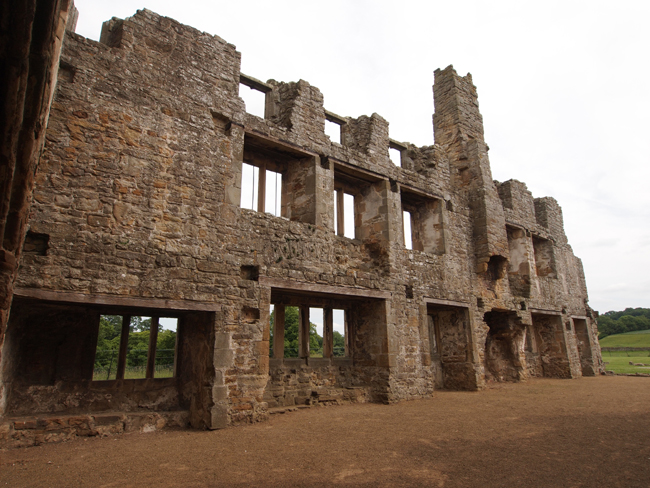 In common with many of the early monasteries, the original church at Egglestone Abbey was enlarged, and partly rebuilt, about one hundred years later, it is this later church that survives today.


There's a full size untouched JPG of the above to download for your later study (8.5MB file) here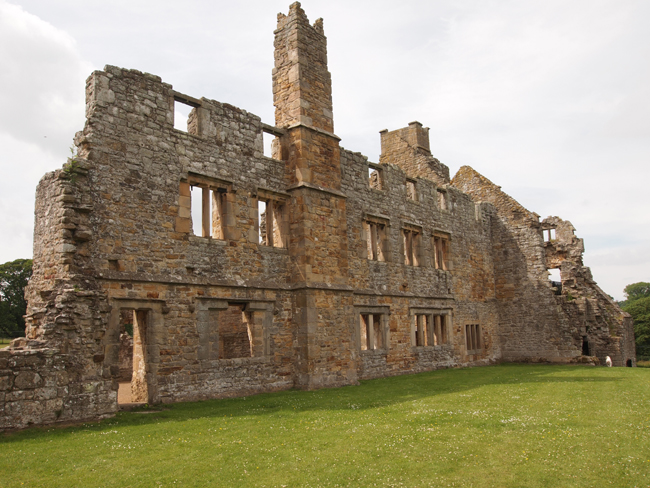 The Abbey was dissolved in 1540 by king Henry VIII, the lands were granted to Robert Strelly in 1548, who converted some of the buildings into a great private house that was abandoned in the mid-19th century. Eventually, much of the abbey was pulled down and some of the stonework was used to pave the stable yard at the nearby Rokeby Hall in the 19th century.


There's a full size untouched JPG of the above to download for your later study (8.5MB file) here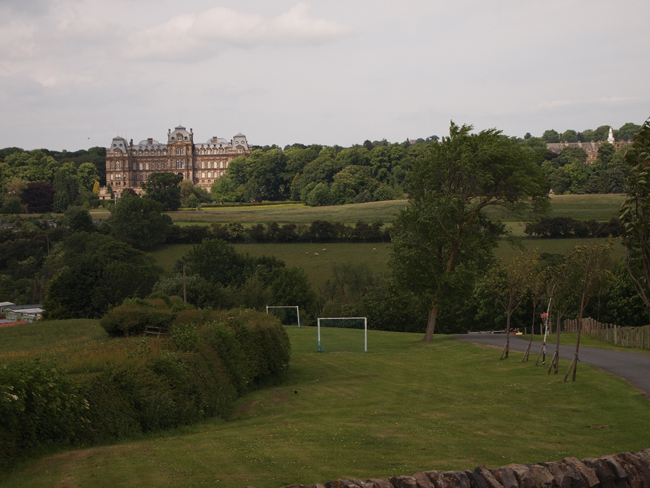 And finally from the minor road leading back to Barnard Castle, we get a last view of the magnificent Bowes Museum from about 1.5 miles as the crow flies. Although the day was slightly overcast there is some haze which is spoiling the detail.


There's a full size untouched JPG of the above to download for your later study (8.5MB file) here




---
OBSERVATIONS ON ABOVE IMAGES
I'm no lover of ultra-wide-angle lenses and as not the greatest proponent of theses lenses. I don't use my E-System ZD7-14mm as much as I should. However, the MZD 9-18mm seems to suit my viewpoint slightly better than its four-thirds sibling, being slightly longer at both ends than the 7-14mm. This lens has a very useful focal length spread that lends itself well to many situations, especially architectural and street scene shots. I've never been convinced that very wide angle lenses are best for sweeping landscapes as they tend to include far too much foreground. But I see they have their place.
The MZD 9-18mm to my eyes has a very good level of inherent sharpness though it does soften at the edges without doubt, and I especially liked its accurate colour rendering. Its contrast level is just fine to my eyes too, being sufficiently heavy enough but reaching the over-cooked look of some contemporaries. I am a little concerned about the lens' general speed, especially at the longest end and the way the aperture progresses over the zoom range. Taking into account that diffraction appears to 'kick-in' at about f=11, this means you only have f=5.6 to around f=10 to play with at 18mm IF critical sharpness is crucial to you. The relative slowness of the lens across its zoom range should present no problem on good, bright days, but is going to be a tad restrictive when conditions are not great or when working inside (internal building shots for example). For the price maybe I expected a touch more speed - but that would come with the penalty of greater size - and that's what m4/3rds is all about.


OPINION
I am very impressed with the lens focus speed; the new optical arrangement and new motor for contrast detect AF translates into very swift AF performance. It is still not quite as quick as a similar lens using phase-detect on an E-System DSLR, but it is still impressively quick and any difference is diminishing rapidly.
I'm very satisfied with this lens' overall performance; having used the 4/3rds equivalent Budget ZD9-18mm and the huge SHG ZD 7-14mm this little lens cannot fail but to impress. Its size and handling and the ultimate resolution will bring a smile to your face. This little lens holds its own without doubt.
SHARPNESS: Very Good with a touch of softness on the periphery
CORNERS: Very Good; there was no some loss of sharpness in the corners on close to medium distance subjects. Corner sharpness will drop a tad more on longer shots though - inevitable with UWA's. Nothing to worry about.
CONTRAST: Very Good - contrasty enough, but not over-done.
COLOUR RENDERING: Excellent: accurate.
RESOLUTION: Very good to excellent.
CHROMATIC ABBERRATION: Some magenta/green CA on some areas having mid contrast. Nothing dramatic.
DISTORTION: Barrel: Average at 9mm, excellent at 18mm: Remember this lens performance is compensated for in-camera.
FLARE: None that I experienced though it will flare in certain circumstances. Olympus hood is available at additional cost (about £40).
HANDLING: Good to excellent; smooth zoom, manual focus the same as all Fly By Wire ZD's.


RECOMMENDATIONS:
This is Olympus first m4/3rds ultra-wide-angle zoom and, although expensive at £499 it offers good value for money. As a piece of optical engineering I think Olympus have provided just about the right level of optical performance for the m4/3rds system. Reasonably bright, sharp and with good contrast with a really useful focal length range it will be a popular lens.
If you need/want a wide-angle zoom lens for your digital Pen camera, this is your only choice from the Olympus stable. The Panasonic 7-14mm offers a wider perspective but at about twice the price.
Wide angle lenses, both prime and zoom, have always been expensive and wide-angle zooms present many design problems for the optical engineers and manufacturers. Add into the mix the inherent miniaturisation of this lens I can see why it is so expensive.


ACTUAL PRICES (MRRP):
UK £499 - £550; Available on-line for about £499.


---
NOTE: This article seeks nothing other than to inform. Only you can decide what equipment you want/need for your use. Occasionally I test cameras/lenses on loan from Olympus UK for website review; the MZD9-18mm UWA lens is one such piece. However; I have nothing to gain or lose by publishing this article, photographs, examples or opinion. Olympus UK have no input into this review.